Username:
Diatenshi
Credits:
₹220
Fame:
---
Caelan Kyrst
[Cursed, The Deserter, B-bot]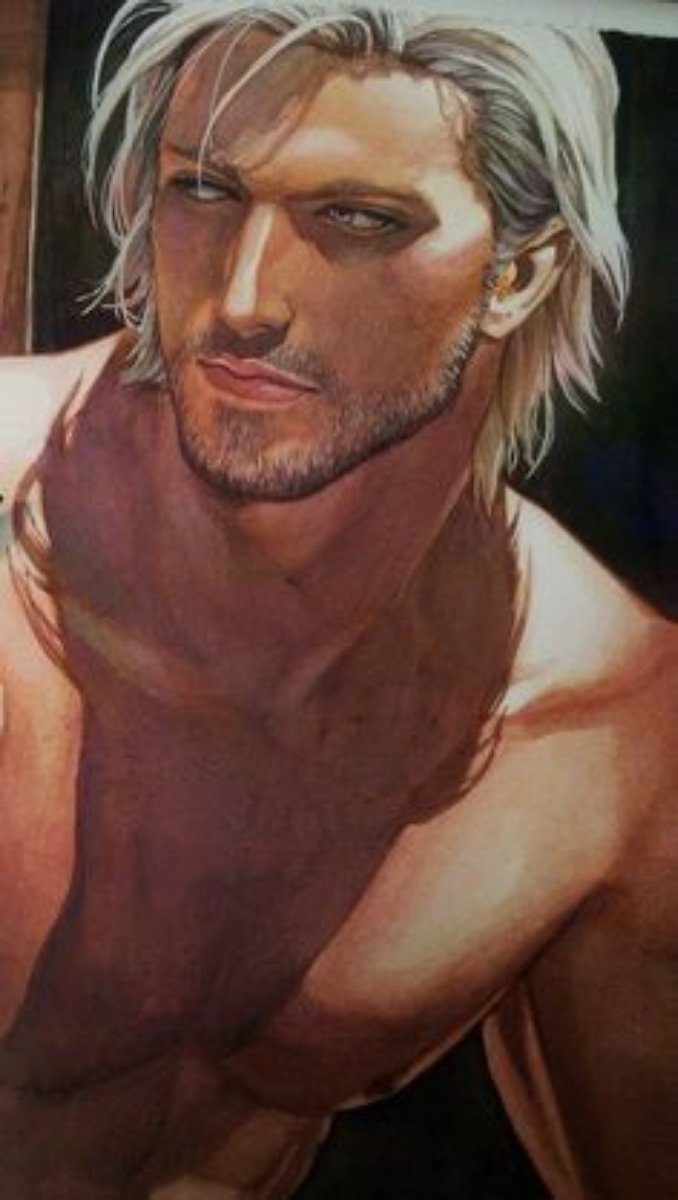 Faction(s):
Race:
Echani
Age:
27
Gender:
Male
Height:
6'1"
Weight:
180lbs
Physical Features:
Caelan has the usual Echani features. Fit musculature, white hair and silvery eyes. He shaves when he can but usually has a bit of white stubble on his face. His hair has perpetual helmet head from constantly being restrained. He tends to let it grow out till it impairs the sealing ability of his helmet causing it to generally hang around chin length.
Clothing/Accessories:
Caelan generally wears a mixture of military gear and civilian rags. The bottom most layer is a modified thin suit that connects to his helmet for improptu space walks. Over that he wears an old worn out military uniform with its identifiable markings torn off with the exception of a combat patch on his left shoulder. The outermost layer consist of a scarf and a ragged old cloak. On his head he wears a sleek helmet that displays a simple digital face. His feet are protected by a pair of jet boots.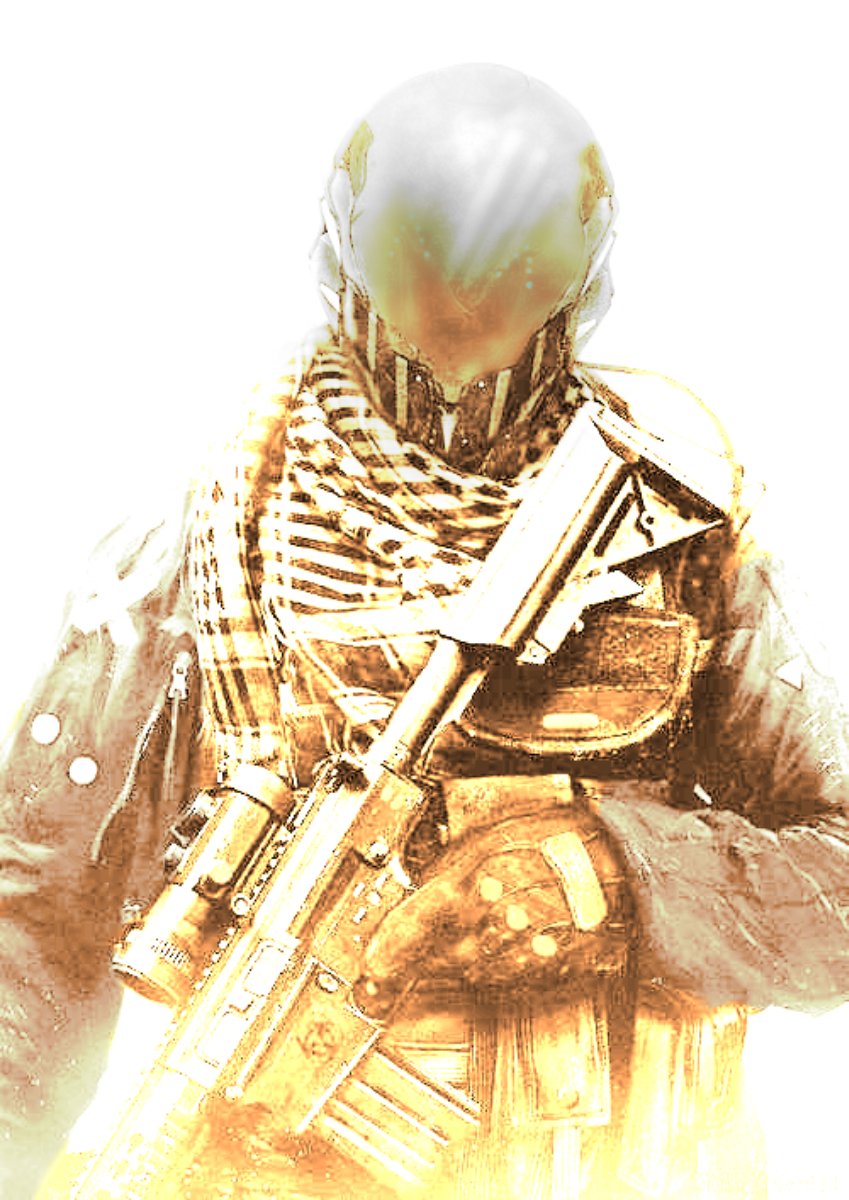 Personality:
Caelan though a fugitive still loves his home world. He just despises the corruption in its military and politics. Although he enjoys combat like any other Echani, he despises the act of taking another's life. Each life he claims haunts him.
Although he bears no ill will towards others hiding from the law like himself, he still hunts them as a bounty hunter. When he's not worried about being hunted or tracking down a bounty he enjoys sight seeing and riddles. Also despite enjoying water he's never been a fan of sand.
He spends a lot of his time worrying. Worrying if Verrak will get caught or get smart and turn him in. Worried his mother or sister's health will take a turn for the worst. Worried he's being tracked or hunted.
---
Possessions:
Modified LBR-9 stun rifle: A light framed rifle modified with a switch to change between stun to lethal. Equipped with an ACOG that can switch between 1.5x and 4x magnification, the rifle uses a blend of blaster gases which, combined with its unique galven pattern, are capable of lethal or non lethal shots depending on concentration. The rifle had long range and accuracy comparable to most lethal weapons of the same weapon class as it. The gas canisters are loaded like a leadslinger magazine.
Damage-3 Durability-2
Head- Digitech Helmet: Probably the most defensive item of Caelan's gear Caelan's helmet has been heavily modified. The sleek black visor has an LED display built in that shows his facial expressions in a simple digital format through a facial recognition program. The helmet has a cobalt filter that contains up to an hour of oxygen for vacuum, underwater and toxic environments. The last feature of the helmet is a voice modifier which raises his voice to a robotic tenor. Durability:6
Chest- Echani Fiber Combat Vest: A simple combat vest made with fiberous plates. The vest itself has four pockets in the front, one on each pec and two over the abdominals. Useful for storing blaster canisters or things of a similar shape or size. Has a small torn out section from where his name used to be stitched into the fabric.
Durability-2
Shoulders- Echani Fiber Sleeves: The sleeves of Caelan's combat uniform. The torso was made breathable to be worn with a combat vest while the sleeves were designed to be more durable. Its a faded tan color soiled by dirt and grime from living homelessly. A combat patch is stitched on to the left shoulder. Durability-2
Arms- Jet Gloves: Gauntlets with a robotic appearance. Have a simple propulsion system in the palms to stabilize flight with paired jet boots. Can potentially be used as a close ranged weapon with the jet it releases.
Damage-1 Durability-3
Echani Fiber Leggings: The pants of his uniform. Dark brown soiled with dirt and grime almost unrecognizable as military issue.
Durability-2
Jet Boots: Not standard issue like most of his gear. These boots much like his gauntlets are robotic in appearance and have propulsion system in the soles to allow him to hover and move through space. The jet releases a small but intensive flame that can be potentially used as a weapon.
Damage-1 Durability-3
Modified Thin Suit: Worn under his armor this fragile suit provides protection against hostile environments including radiation, chemicals, pressure, temperature and vacuum, although it does not provide air. The suit does have a hydro recycle function that stores recycled body fluids for re-consumption. This thinsuit has been rigged to connect to Caelan's modified helmet.



---

Racial Ability:

Galactic Databanks wrote: Echani
Echani are a near-human species only differentiated by their pale skin, white hair, and silver eyes. While these traits cause them to stand out among other species, amongst a crowd of Echani, the features of all Echani are so strikingly similar to non-Echani it is quite difficult to differentiate one Echani from another. The Echani also have a culture rooted in physical combat to the point of combat being considered a form of dialogue. Echani start with 2 free skill points in Hand-to-hand combat.

Modifiers:
Stats (0/38)

| Stat | Value |
| --- | --- |
| Focus | 2 |
| Endurance | 2 |
| Athleticism | 2 |
| Speed | 4 |
| Force | 1 |

---

Skills:
Hand-to-hand Combat 6
Strategy 4
Tracking 3
Piloting 2
Blaster Rifle 1
Armor Engineering 1
Robotics Technician 1


---

Caelan grew up in a poorer family on the Echani home world Eshan caring for a sick mother and baby sister his father having died fighting against A Mandalorian scouting party. Although women traditionally rule Echani society, due to the incapacitated state of his mother and the young age of his sister, the duties fell to him. School was hard for him as he also had to work to provide for himself and his family. As such his grades slipped and he consistently required remedial lessons though not due to a lack of intelligence.

At the age of 19 he enlisted into the military hoping for good pay and benefits his sister now old enough to care for their mother. His performance through his military career was average to say the least. He learned everything taught to him but wasnt overly good at any of for the most part with the exception of hand-to-hand combat but even then his only highlight seemed to be the norm for Echani in general being a race that glorifies combat. Originally lined up to be a cook they discovered that was horrible mistake. After a case of food poisoning that Infected an entire battalion he courtmartialled and reassigned.

With some minor success in tracking and being able to properly operate a land speeder he was made into a scout. As a scout he proceeded smoothly with his career but never really making a name for himself. His promotions were never early, maybe even a little late compared to others. But he slowly moved through the ranks regardless.

During a routine scouting mission he and his troop found a group of illegal residents. His superior was well known amongst the lower ranking troops for being lazy and getting her position due to relationships. Her decision was to simply execute them and dispose of the bodies as she didn't want to deal with paperwork. Despite his hardships growing up Caelan had grown into a man that had profound respect for life. He refused but his second in command followed through with the order trying to suck up and get promoted faster.

About a week later the bodies were found. The supervisor claimed no knowledge of the incident and his second in command claimed it was his order. The other troops under his command had been either bribed or threatened into silence or cooperation. Even his family was used against him being fed false information. Despite his vehement refusal he was still being charged with murder. To make matters worse his sister was showing signs of the same illness as his mother. If he were to die there'd be no one to support them.

Luckily one of his troop members, Verrak, who was coerced into silence couldn't sit by and watch him die. Together they escaped towards the outer rim. Unfortunately, as they were fleeing their ship was shot down and most of the craft burned up in orbit. Injured but not dead they tried to flee the wreckage. He tore his name tape off and passed it to Verrak instructing him that if he was caught to simply state he'd been ripped out of the craft before impact.

Instead of continuing on together Verrak volunteered to stay behind to buy him time. Caelan used the chance to flee the area while Verrak was captured. Verrak was initially charged with with helping him escape but managed to persuade the judge he was being held against his will.

Now Caelan works as a freelance bounty hunter sending the credits home to Verrak to support his family, while trying to stay under the radar. Should he be discovered alive a bounty is likely to be put out on his head if it hasn't already...